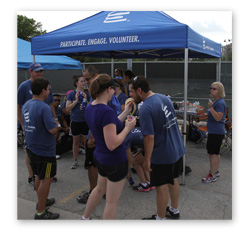 If this is your first time participating in the Corporate Cup, you haven't experienced summer tailgating. What is summer tailgating, one may ask?  Besides permission to crack a beer before lunch, it feels like getting ready for a college football game on campus only you are there to cheer on your company team while finding your game face before tossing Frisbees and bean bags.
It's hanging out, barbecuing and beer gardens.  It's yummy and healthy product sampling by Corporate Cup's favorite grocery chain, H-E-B.  Plus, whatever else your team captain can score out of the budget to provide at your company's own tailgating area.
The Athlete Village is sandwiched between the Convocation Center, Natatorium, tennis courts and Benson Stadium on the UIW Campus so it's conveniently located near the majority of the competition venues, which means you won't have to walk far to the snacks after you've been thrown out of the dodgeball tournament.
---
Tailgating Zones and Set-up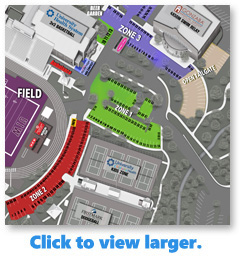 We've worked closely with UIW to develop a tailgating guidelines document that is specific to the Corporate Cup and incorporates campus policies so we are adhering to their house rules. Download the official tailgating guidelines here.
We have developed a new system to organize the Athlete Village by dividing different areas by prime zones.  View our athlete village map to use as a guide when deciding where you want your team's tailgate space to be for event day.  Download the registration packet for pricing by zone and don't hesitate to reach out to Dave Voth with questions.  As a reminder, there will still be an open zone available that is free of charge if you don't have a little extra in your budget, but don't forget, it's all for the kids!
Valero Team Tailgate Contest
In the spirit of fun and camaraderie, we encourage teams to decorate their team tailgating area as they see fit, and we've seen some good ones in years past!  So it's time to recognize those tailgating skills.  Thanks to our Champion Partner, Valero, teams will be judged by division and 1st place finishers will be recognized as the winner in the Valero Team Tailgate Contest.  Décor, themes and overall spirit will be part of the contest criteria.

No need to enter, just do your thing and judges will make their rounds throughout the morning to see all of the fun stuff happening in your space!
Concessions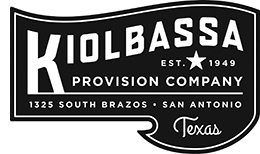 Thanks to Kiolbassa Provision Company for providing some concession options for teams that may not be doing their own event-day tailgating. A few different "meal deals" will be available for purchase throughout the day to sustain your employees before and after competition. Nothing tastes better than a Kiolbassa sausage wrap washed down with an ice cold beer from Glazer after a fierce Corporate Cup matchup. And 100% of the proceeds from concessions will be donated back to San Antonio Sports' youth programs and initiatives. So in that case, have two wraps!

Glazer Beer Garden
Back by popular demand, our good partners at Glazer will be supplying the liquid carbohydrates for participants and spectators in the athlete village. Those of age will enjoy a wide variety of free beer served by our TABC trained staff and volunteers. Please remind your employees that ID's are required to receive a wristband and to always drink responsibly.
Fuel for the Finish!

As always, H-E-B is committed to helping you create healthy habits for better well-being. Be sure and visit Team H-E-B in the end zone of Benson Stadium on event day to learn more about their Health and Wellness Nutrition Services and to grab a healthy snack they will be sampling throughout the morning.  Visit www.heb.com/nutrition for more information and to learn about the wealth of opportunities H-E-B has to offer you and your workforce!
Entertainment
Check back soon for details on game day entertainment.

University Health System Ambulance
University Health System (UHS) will have provide an ambulance.

University Health System Kids Fun Zone

For all the parents who want to come play with us but not quite sure what to do with your kids or too cheap to pay a babysitter on event day, bring them with you!  Back by popular demand, games and activities will be offered for kids, ages 4 - 14, on the set of tennis courts adjacent to the Athlete Village.  Mini Corporate Cup games will include soccer kicks, sack races, hula hoops, bean bag toss, a giant parachute, face painting and much more!  Staff and volunteers will be onsite to secure signed participant waivers at the entrance and to help with parent pick-up.  The best part of the Kids Fun Zone – it's fenced in and contained!  If you have bigger kids that want to tag along, we'll take 14 and older and put them in a volunteer shirt to help us throughout the morning – a great way to rack up some community service hours.
OrthoNow Medical Services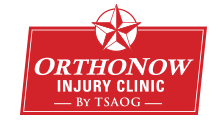 To support competing athletes, the 2018 Corporate Cup will have trained medical professionals on site. A medical tent will be staffed with OrthoNow Injury Clinic staff, including doctors, nurses, emergency medical technicians, and certified trainers familiar with athletic and active lifestyle injuries or emergency situations. In addition to the medical tent, 2018 Corporate Cup athletes will be supported with five additional OrthoNow Injury Clinics strategically located within the competitive arena.