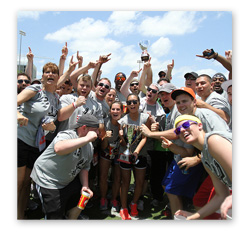 You and your coworkers are fired up, and you've convinced your boss this is one of the best things your company can do this year for team morale, wellness and to help the community.
If you're still working to sway the boss, try this: "The San Antonio Sports Corporate Cup presented by OrthoNow costs the same to participate in as it does to play in a corporate golf tournament.  The difference is only four people can golf, but we can include nearly 100 employees in the Corporate Cup while building team camaraderie and giving back to the community. Besides, all the cool companies are doing it."
If additional persuasion is needed, show them the a highlight video because YouTube is worth a thousand words. 
Still need help?  Contact us for an in-person presentation to close the deal. Get in touch with Dave Voth at dvoth@sanantoniosports.org
---
STEP 1.

Download the Entry Form

This year's Corporate Cup is SOLD OUT! New teams are no longer able to register.

STEP 2. Event Registration
STEP 3. Acelity 5k Registration - CLOSED
STEP 4. Participant Waiver