Saturday, June 2, 2018
University of the Incarnate Word
It Just Makes Good Business Sense.
If that last line didn't hook you, maybe new business will. Ninety San Antonio-based companies participated last year so there are great opportunities to meet new business prospects and strengthen ties with current ones outside of the office.  As past D4 Champion, Clear Channel Outdoor can attest, there's nothing wrong with mixing business and pleasure.
"The Corporate Cup has been an incredible networking opportunity, bringing some of the city's most prominent business leaders together in a friendly, competitive environment. My company even secured a brand new client as a result of relationships that began on the day of the event."
-- Ryan Frazier, Clear Channel Outdoor
Need Another Reason?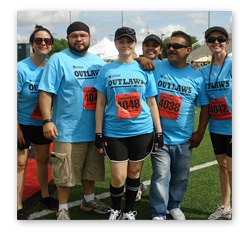 Besides bringing employees together in a fun, active and football-tailgating-kind-of-way (with bragging rights and a really awesome trophy), the San Antonio Sports Corporate Cup incorporates a Charity Challenge into the competition each year.  San Antonio Sports is proud to partner with Haven for Hope, the San Antonio Food Bank, Boys and Girls Club of San Antonio, UHS Blood Donor Services, and the South Texas Blood and Tissue Center.  Together, we can all have fun and do good for our community.
And...
Proceeds from the Corporate Cup will provide sports and fitness programs for the youth of our community, especially those who are underserved. The glory is tempting and beating a rival company on the competition field tastes oh so good, but if you need the best reason, do it for the kids!
Volunteers Needed!
It may be too late to sign up your team for this year's event, but that doesn't mean you or your organization can't be part of the fun! Volunteers will help with scorekeeping, game monitoring, and tear down. Parking and lunch are provided. Learn more.
The Latest and Greatest
Stay up to date by reading our weekly newsletters. Newsletters will be posted here as they are published beginning this spring.