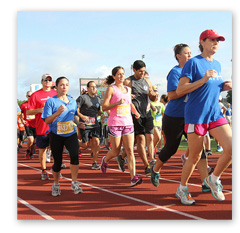 We understand rounding up nearly 100 employees and signing them up in 13 different events can't be easy, especially if you work for a company of thousands. 
We promise to do our best to make it as easy as possible on team captains. Contact either Dave Voth at 210.716.3213 or Dorsena Picknell at 210.820.2112 if you ever have any questions.

If you can't find an answer to your question on the website or if your Dave and Dorsena are having an off day, read through the Team Information Packet for everything you'll need. Weekly e-newsletters will begin again this spring, so be sure we have your captain's email address. .  
Key Dates
Date
Action Item
Location
Monday, January 1
Charity Challenge begins
Various
Thursday, April 20 - 3:30 p.m.
New Team Captain Meeting
Alamodome - Meeting Rooms K+L
Friday, May 12
Charity Challenge concludes
Various
Wednesday, May 24 - 5 p.m.
Event Registration deadline
Online participant registration due
Click here for online forms
Wednesday, May 31 - 5-7 p.m.
Team Captain Meeting and Packet Pickup
VFW Post 76
Saturday, June 3 - 7:30 a.m.
Corporate Cup competition day
University of the Incarnate Word
---
Event Map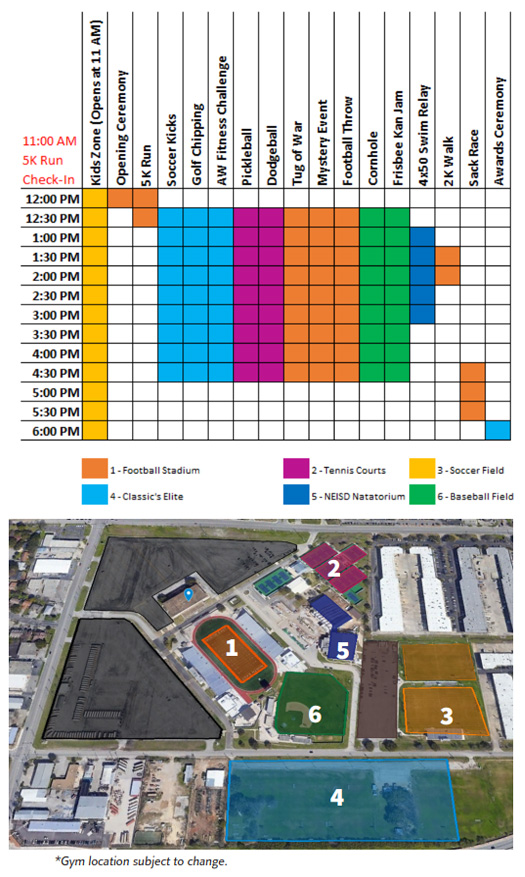 ---
Posters, Maps and Diagrams
Download the info poster to hang in your office.
Weekly Newsletter Archive
Week 1 Newsletter
Week 2 Newsletter
Week 3 Newsletter
Week 4 Newsletter
Week 5 Newsletter
Week 6 Newsletter
Week 7 Newsletter
Week 8 Newsletter
Week 9 Newsletter
Week 10 Newsletter

---
Corporate Cup Logo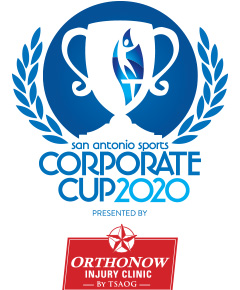 You are encouraged to use the Corporate Cup logo, show it off and promote your company participation in the San Antonio Sports Corporate Cup.  Below are logo files that may be used in both internal and external promotions or on your awesome team t-shirts.
The logo can only be used as is and cannot be altered in any way including colors, fonts and layout. You must keep all wording and "presented by" sponsor name/logo intact. In other words, don't mess with it – we like it the way it is. If your company decides to create a team shirt and you choose to use the single color logo, you can print in whatever color you wish to match your apparel and design.
Full-color download: JPG / EPS

One-color download: EPS
Name Usage in Text
When using the name of this event in written form please note that the official name is San Antonio Sports Corporate Cup presented by OrthoNow. You must use the name in its entirety on first usage within a document. Upon second and subsequent usage within the same document, you may refer to the event as the San Antonio Sports Corporate Cup. It is never "The San Antonio Sports Corporate Cup".
Electronic and Social Media Usage
San Antonio Sports website: www.sanantoniosports.org
San Antonio Sports Corporate Cup web page w/in the SAS website: http://www.sanantoniosports.org/corporatecup
San Antonio Sports Corporate Cup Facebook page: https://www.facebook.com/pages/San-Antonio-Sports-Corporate-Cup
San Antonio Sports Corporate Cup Twitter hashtag: #sascorpcup 
San Antonio Sports' Facebook page: www.facebook.com/sanantoniosports 
San Antonio Sports Twitter account:  www.twitter.com/SA_Sports
San Antonio Sports Twitter hashtag:  #sasports

Help us make this a social media success!  Teams are welcome to post comments, photos and video on the San Antonio Sports Facebook page and to engage San Antonio Sports in Twitter conversations. Trash talk is highly encouraged.
---
Stuff You Need to Know
Charity Challenge
Don't forget that the Charity Challenge plays a big part in the Corporate Cup and means a great deal to San Antonio Sports.  Visit the Charities section of this site to get started giving back to the community while putting some early points on the board for your team.  Too lazy to read through the information?  Contact our staff liaison for the Charity Challenge, Carolyn Wheat at 210.820.2119 or cwheat@sanantoniosports.org
Park and Ride
Have you had trouble finding a parking place in past years? While it may be a good warm-up to trek over from Incarnate Word High School, we realize there still may not be enough parking to go around. Good news for your participants! We are adding more park 'n' ride from Alamo Stadium's northwest parking lots this year. The shuttle will run from 6 am - 2 pm. This doesn't mean you shouldn't still encourage carpooling as much as possible, but this adds to the inventory and also creates a convenient drop-off point near the UIW International Conference Center.
Check back soon for a map of all parking options.
Equipment
The more competitive the Corporate Cup becomes, the more questions we get from teams looking for a competitive advantage on their event preparation. If you are on a team not training before the big day, maybe you should consider it because there are quite a few teams out there buying their own equipment to stage training and recruiting sessions in advance. Did that get your attention? Download the official equipment list just in case.