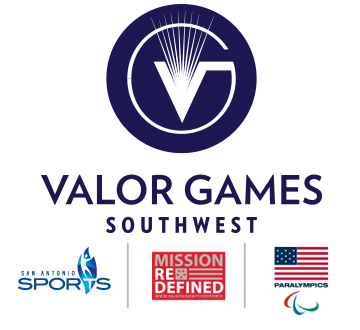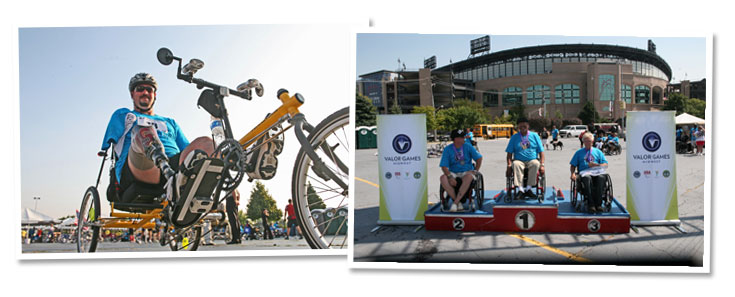 Images of 2011 Valor Games Midwest. Courtesy of World Sport Chicago. All Rights Reserved.
The Valor Games Southwest is a multi-sport event with the goal to provide an adaptive sports competition to veterans and service members with a physical disability. San Antonio Sports is proud to host this event in partnership with the U.S. Department of Veterans Affairs and U.S. Paralympics a division of the United States Olympic Committee.
Qualifying athletes may be active duty or veterans from any era. Their disabilities may include: amputation, post-traumatic stress, spinal cord injuries, stroke, traumatic brain injuries, visual disabilities, or any disability rating from the VA.
The inaugural Valor Games Southwest will be one of four events in the 2013 Valor Games series and includes five Paralympic sports: archery, cycling, kayaking, powerlifting and air guns.   
Registration will open for all Valor Games Southwest events on June 10.
Full event information will be available by May 15. Please check back for further details.
Schedule of Events
September 23
Location: 
North East ISD Indoor Shooting Range

Competition: 
Air Guns
September 24
Location:
Mission Conception Sports Park
Competition:
Archery 

Events:
Opening Ceremony – Speeches from Paralympic athletes and dignitaries 
The Paralympic Experience – basketball, seated volleyball, table tennis, fencing and cycling
September 25
Location: 
SeaWorld San Antonio

Competition:  
Cycling
Kayaking
Power Lifting

Events: 
Evening social event closing ceremony at the base of the Great White.

Contact:  Ross Davis by email for further information.

The grant funding for this program is awarded by U.S. Paralympics, a division of the U.S. Olympic Committee, through funding provided by Veterans Affairs. The grants are provided to facilitate the growth of Paralympic sport programming for disabled Veterans and disabled members of the Armed Forces.