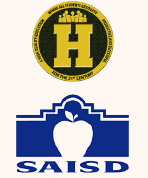 Download H-E-B's Nutrition Packet
Volunteers Needed
Volunteers are needed as scorekeepers and court monitors at i play! afterschool tournaments. Click to learn more.
Special Consideration provided by



Northwestern Mutual, an official NCAA® Corporate Partner, supports the addition of basketball to San Antonio Sports
i play! afterschool
as an official youth legacy program of the 2018 NCAA® Final Four®. The final four teams in the i play! afterschool basketball tournament will advance to play the semifinal and championship games inside the NCAA Fan Fest presented by Capitol One during Final Four weekend and will compete for the Northwestern Mutual Cup Trophy. Special for 2018, each child in the program will receive a Final Four basketball jersey, basketball and tickets to attend the event for their family.
Welcome to i play! afterschool, San Antonio Sports' innovative afterschool program that ignites a love of sport in 3rd through 5th graders, while teaching them life lessons about active living, good nutrition and strong personal character.
During the 2017-18 school year, i play! afterschool will serve 1,200 children in 48 elementary schools in the San Antonio and Harlandale school districts. They will participate in five, 5-week sports development sessions (soccer, track, volleyball, tennis and basketball).  Each sport unit will culminate in a fun tournament where the kids can demonstrate their new skills and parents, family and friends can cheer them on.
View photos from the Greehey Family Foundation Golf Tournament on March 5.
View photos from the Valero Energy Foundation Volleyball Tournament on January 23.
.