View photos and results from the District 6 5k Finale event on August 14.
We hope you will join us for our free Fit Family Challenge weekly Zumba and Kid Fit classes and learn how you could win great prizes and cash incentives while getting fit with your family. Visit FitFamilyChallenge.com for details or call 210-820-2108.


Join the Coolest Program this Summer!
Every summer since 2010, families around San Antonio have come together to play, exercise and develop healthy habits through San Antonio Sports' Fit Family Challenge presented by Blue Cross and Blue Shield of Texas.  This FREE 12-week summer program is designed to get families active, eating better and learning about health and fitness.  You can join at any time and the more you participate, the greater your chances of winning some great prizes!
What is Fit Family Challenge?
San Antonio Sports' Fit Family Challenge, presented by Blue Cross and Blue Shield of Texas includes events and resources to help your family be more physically active and learn about good nutrition. There are free weekly workouts at seven sites and every three weeks, a family-friendly Big Event is held on a Saturday where we'll give away a $1,000 cash prize.  PLUS, we'll be giving away prizes throughout the summer to participants who earn points on their tracking log! You can earn points by participating in weekly fitness classes, receiving a health screening, and coming to the Big Events. If you earn more than 400 points, you will be entered to win one of our 2016 Fit Family Challenge grand prizes.
Click here to learn more about our rewards program.
District 4 5k results and photos online!
View photos and results from the hugely successful District 4 5k, brought to you by Councilman Rey Saldaña.
Flatty Fitty Contest Winner Announced!
We had so many wonderful Flat Fitty entries that the selection process was extremely difficult. We thank everyone who submitted pictures of themselves being active with Flat Fitty.‪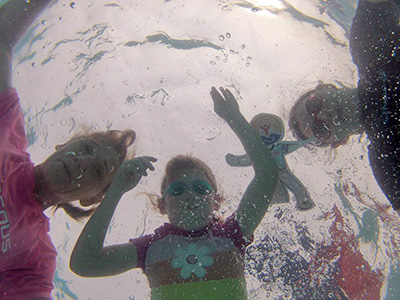 Congratulations to Terri Marshall-Schrader, the winner of our 2016 Flat Fitty Contest!